It is unpleasant when the cushions for patio furniture become soiled or covered in mildew, no matter how charming the patio furniture was when new. So, it is very important to know how to prevent mildew from occurring on outdoor cushions.
Fabric Matters
The outer fabric of Lagoon outdoor cushions and pillows is made from polypropylene. This all-weather material helps protect outdoor cushions from mold and mildew caused by damp conditions since it repels and does not absorb water, dries quickly, is resistant to chemicals, does not retain odors, has good colorfastness, is abrasion resistant, and is environmentally friendly. However, if moisture, rainwater, or dust remain on the surface of a cushion or infiltrates into the inner filling, then mildew may grow.
Treatment Plan
Spraying waterproofing products onto cushions gives them an additional level of protection against moisture, spills, and stains. Before using a waterproofing product, spray a small amount onto a hidden area of the cushion to ensure it doesn't cause any damage. Typically, at least two coats are recommended for optimal coverage, but do not saturate the cushion, as this can lead to mold and moisture if the waterproofing product penetrates through the protective covering and into the cushion filling.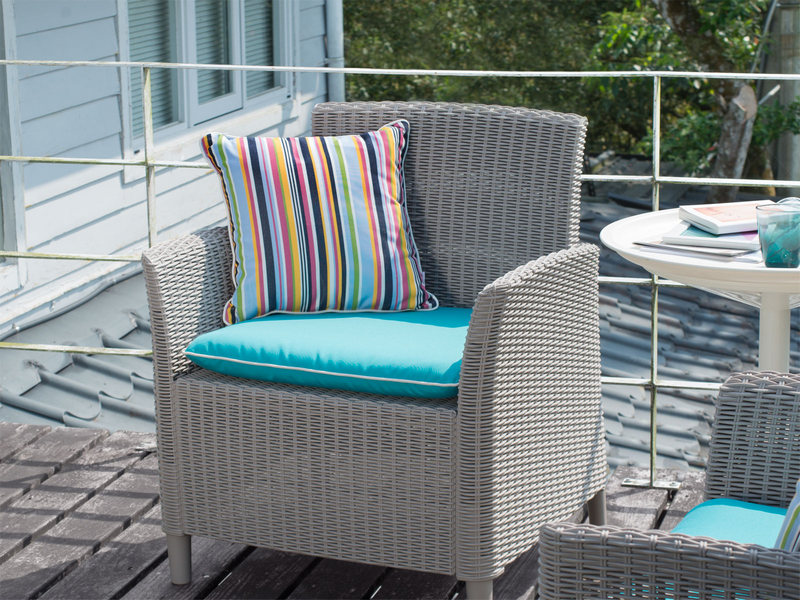 Patio Cushion and Pillow
Everyday Care
A good habit is to flip the cushions over occasionally to check for mildew. Regularly, clean the surface with a brush or vacuum. If the fabric becomes soiled, immediately wipe it down. Mix a solution of 1/4 of a cup of detergent in a gallon of lukewarm water and use a sponge or soft bristle brush to clean the cushion thoroughly. Then rinse with clean water until no suds can be seen. Since sunscreen and bug sprays can soil the fabric and provide nutrition to mildew, a quick trick is to cover cushions with a towel before sitting or reclining on them.

Clean the Cushions Regularly
Routine Maintenance
If you see any mildew, wash the cushion in a solution with 1 teaspoon each of dishwashing detergent and borax dissolved in 1 quart of warm water. Bleach is not recommended. As a precaution, apply the solution to an inconspicuous area first to test if the fabric will fade. If there are no signs of discoloration, wipe the stained area with the solution, wait for 5–15 minutes, and then gently scrub it using a microfiber cloth, a stiff bristled brush, or a sponge. Finally, rinse thoroughly with lots of water. This also works well when dealing with stains.
When the cushion is clean, gently squeeze the water out of it. A water extractor can be very handy for this. Air dry the cushion with the zipper side down and unzipped. Do not put the cushion into a dryer or use a steamer to remove wrinkles, since that can deform the cushion.

You can pressure wash the furniture frame, but avoid pressure washing the cushion since that can damage the stitch line.
Make sure the cushions are totally dry before putting them back on the furniture, as otherwise all your effort will be wasted.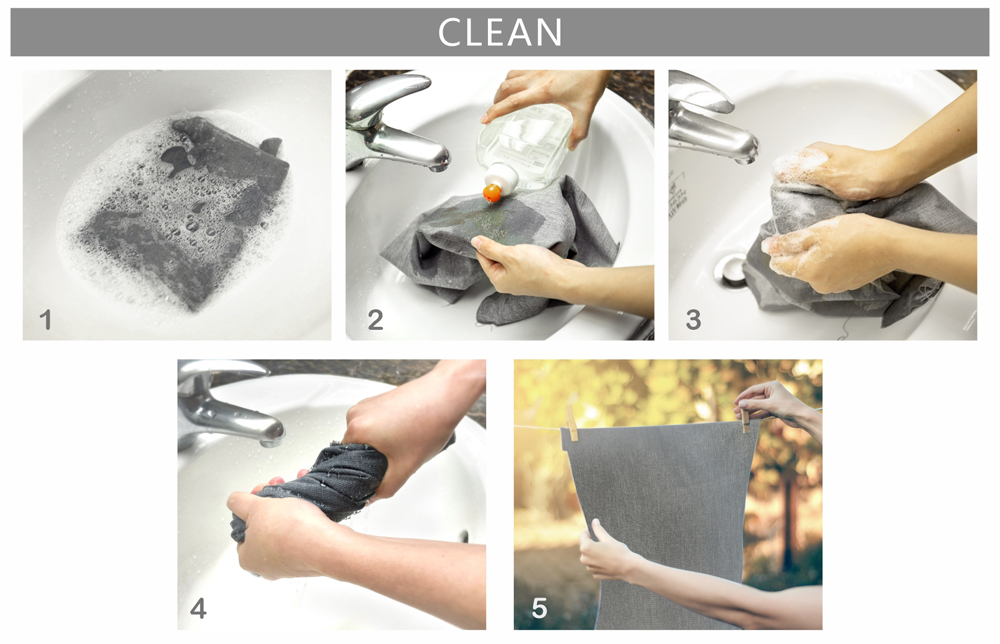 Clean stains with the solution
I hope these tips will help you to understand how to prevent mildew on outdoor cushions, allowing you to enjoy Lagoon furniture for longer and better! Lagoon enables you to lead a good life!