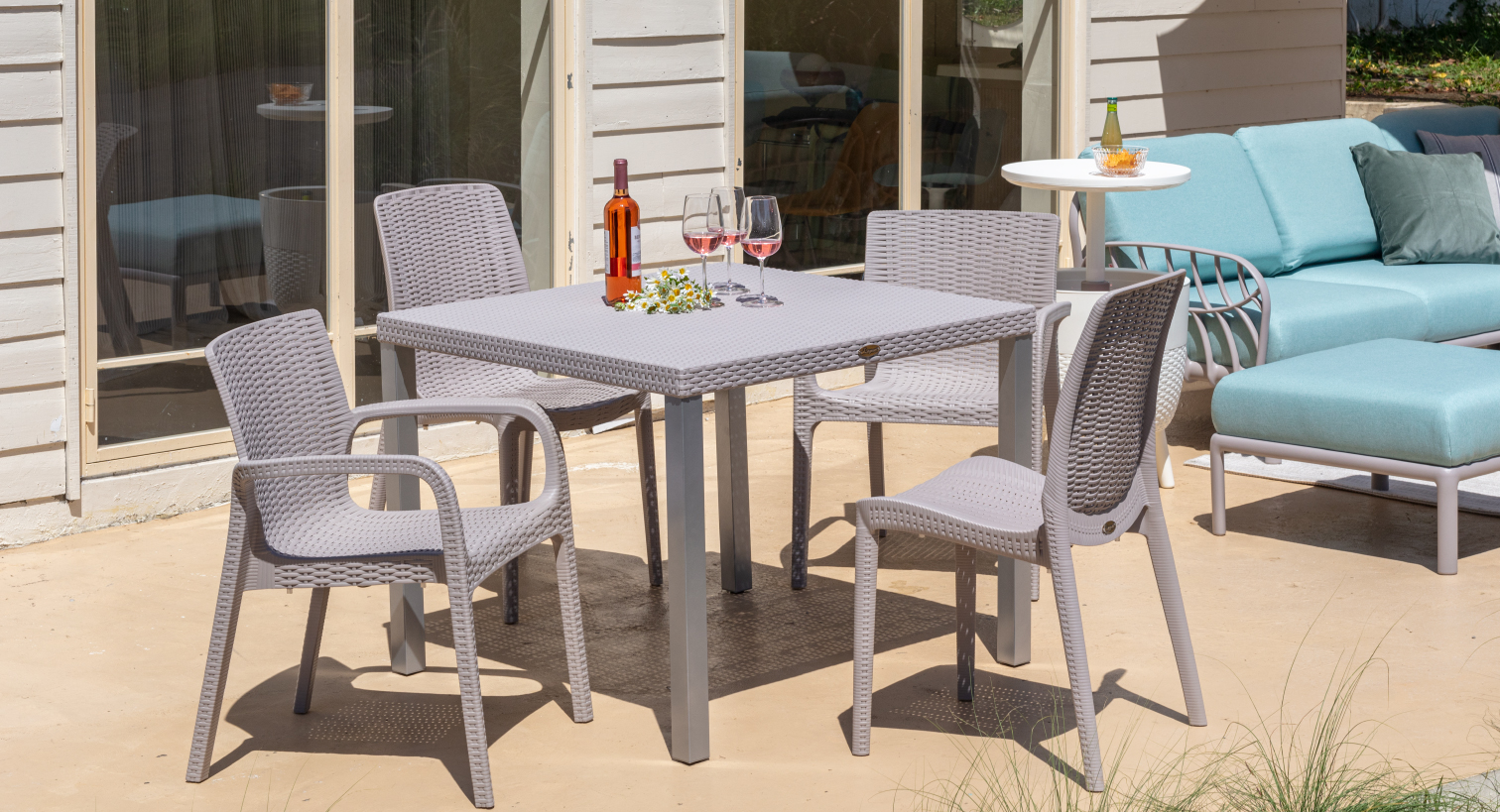 images/_1512x819_4-1_Dining_Table.jpg
Unleash Your Outdoor Style with Plastic Outdoor Patio Chairs and Tables
Welcome to our exquisite collection of plastic outdoor patio chairs and tables! Prepare to elevate your outdoor space into a sanctuary of relaxation and style with our meticulously curated furniture. Whether you're hosting a lively gathering or seeking a tranquil retreat, our collection offers the perfect fusion of functionality, durability, and aesthetic allure.
Experience the Unrivaled Appeal of Plastic Outdoor Patio Furniture:
Unparalleled Durability:
Our plastic outdoor patio chairs and tables are engineered to endure the demands of outdoor living. Crafted from premium materials, they boast exceptional resistance against the elements, including rain, sun, and heat. Rest assured that your furniture will maintain its impeccable condition, providing long-lasting enjoyment for you and your guests.
Stylish Design:
Embrace the beauty of contemporary outdoor living. Our collection showcases an array of sleek and modern designs, adding a touch of elegance to any outdoor setting. From minimalist silhouettes to captivating patterns, our plastic furniture seamlessly blends form and function, creating an aesthetically captivating ambiance.
Effortless Maintenance:
Bid farewell to arduous upkeep. Our plastic outdoor patio chairs and tables require minimal maintenance. With effortless cleaning requirements, you can devote less time to maintenance and more time relishing your outdoor oasis. A simple wipe-down is all it takes to keep them looking immaculate.
Versatile Options:
Customize your outdoor experience to suit your preferences. Whether you have a cozy balcony or an expansive patio, our collection offers a variety of sizes and configurations to accommodate your space. Choose from an extensive selection of seating and table options, enabling you to create the ideal arrangement for intimate conversations or lively gatherings.
Unwind in Comfortable Outdoor Living:
Indulge in relaxation amidst the splendor of the outdoors. Our patio chairs are meticulously designed with your comfort in mind. Featuring ergonomic contours and supportive backs, they provide an unparalleled seating experience for hours of lounging, dining, and entertaining. Combine them with our stylish tables to fashion your perfect outdoor retreat.
---