If the cushions of patio furniture are soiled or crawling with mildew, it became unwelcomed no matter how charming the patio furniture was originally designed. So it is very important to know how to prevent mildew on outdoor cushions.
Fabric Matters
Talking about how to prevent mildew on outdoor cushions, there are several kinds of all-weather materials helping protect outdoor cushions from mold and mildew caused by damp conditions, and the fabric of Lagoon outdoor cushions and pillows is made by polypropylene, since it features water repelling (do not absorb), quick dry, chemical resistant, no odor retention, good colorfastness, abrasion resistant, environmentally. However, if moisture, rainwater or dust stays on the surface of cushion, or infiltrates to inner filling, then the cushion is still subject to the growth of mildew.
Treatment Plan
By spraying waterproofing products on the cushions, an additional level of protection against moisture, spill and stain could be added. Before using waterproofing  product, remember to spray a small amount onto a hidden area of the cushion to make sure it won't cause damage. Typically, at least two coats are recommended for optimal coverage, but be sure to avoid saturating the cushion as this can lead to mold and moisture if it gets through the protective covering and into the cushion filling.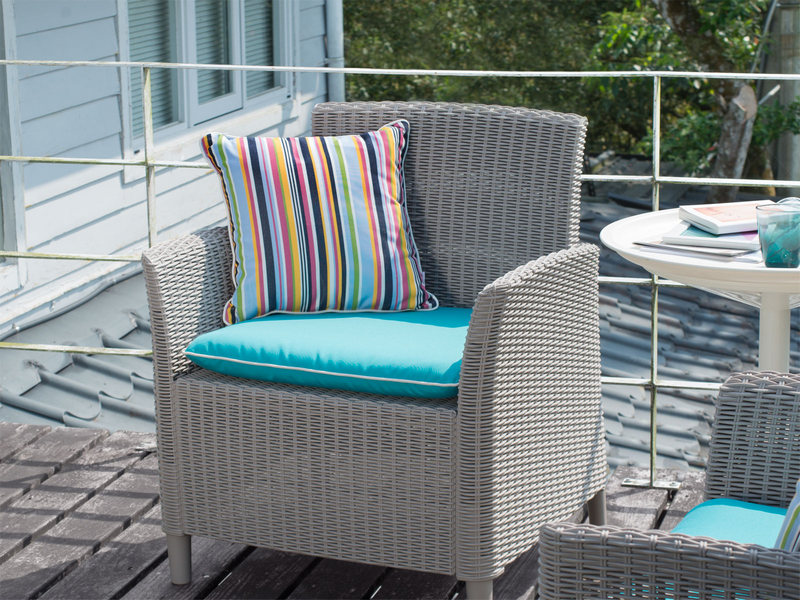 Patio Cushion and Pillow
Everyday Care
A good habit is to flip the cushions over occasionally to check for mildew, sweep the surface with brush or vacuum. If the fabric was soiled, immediately wipe it down, spray with solution of 1/4 cup of dishwashing into a gallon of lukewarm water, use sponge or soft bristle brush to clean thoroughly, then rinse with clean water until no suds could be seen. Since the sunscreens and bug sprays could soil the fabric and provide nutrition to mildew, a easy trick is to cover cushions with a towel first before sitting or reclining on them.

Clean the Cushions Regularly
Routine Maintenance
If you saw any mildew, wash the cushion with solution mixed by 1 teaspoon each of dishwashing detergent and borax dissolved into 1 quart of warm water. Bleach is not suggested. As a precaution, remember to apply the solution to inconspicuous area first to test if the fabric will fade. If the result shows no sign of discoloration, wipe the stain area with the solution, wait for about 5~15 minutes, then gently scrub it using a microfiber cloth or stiff bristled brush sponge, then rinse with a large volume of water thoroughly. This process is also helpful when dealing with stain.
After the washing was done and mildew was gone, squeeze the water out of cushion gently, if you happen to have a water extractor, it will be very handy. Air dry the cushion with zipper side down and unzipped. Do not put the cushion into a dryer or use a steamer to remove wrinkles, since it might deform the cushion.
There is no problem pressure washing the furniture frame, but avoid pressure washing the cushion since it might accidentally damage the stitch line.
Make sure the cushions are totally dry before putting them back to the furniture, damp cushion will make all the effort useless.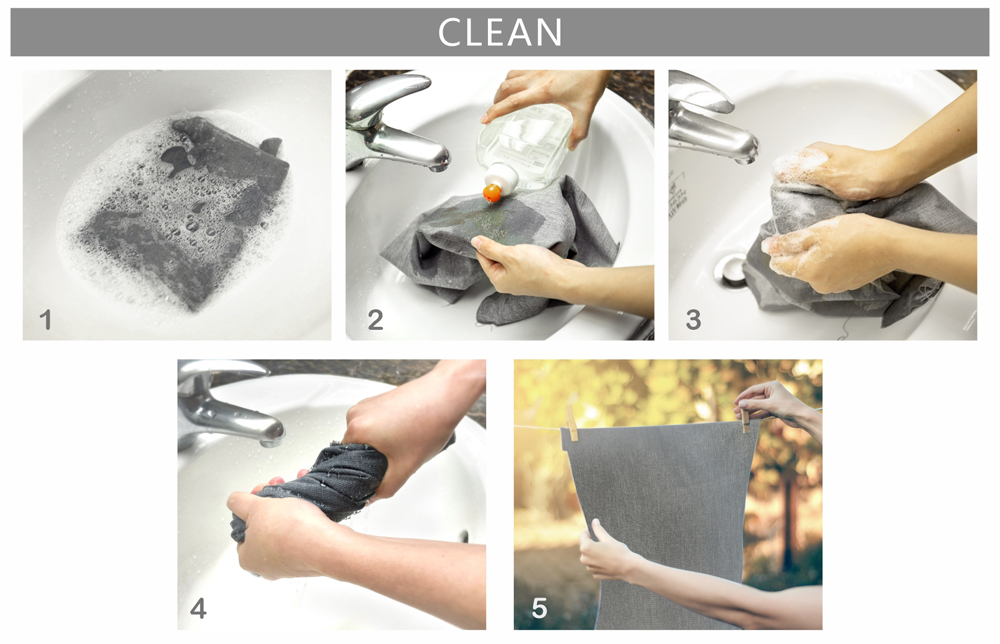 Clean stain with solution
Hope above tips could help you understand how to prevent mildew on outdoor cushions, and enjoy Lagoon furniture for longer and better! Lagoon enables you to lead a good life!