The furniture you choose for your patio or balcony, next to your pool, or in your backyard is a key component of how your outdoor space looks and feels. Since outdoor furniture may be exposed to heavy rain, high wind or direct sunlight all the time, most outdoor furniture is made with material that can withstand the elements, but the durability of different materials varies, as well as the amount of cleaning and maintenance required. This can limit its design and style possibilities.
Undeniably, metal—wrought iron, steel, and aluminum—has better durability, but it can get hot on sunny days and feel cold in winter. Also, iron is prone to corrosion in the presence of water and oxygen, thus proper care is required to ensure its longevity. By contrast, plastic's surface temperature is moderate, and it is not at all prone to rust. What's more, the design of plastic furniture is more flexible and colorful, and it's very easy to move around.

1. Polypropylene
Polypropylene is lightweight and fairly strong at the same time. Another advantage is that the design and color possibilities are almost unlimited (the only outdoor-use material that can be transparent!) Thanks to its inherent ability to resist stains, water and chemicals, polypropylene furniture will remain in good shape even in places with excess moisture or salt water. It maintains its color and, best of all, no maintenance is required. When considering what outdoor furniture has the longest lifespan, polypropylene is a strong candidate that can't be overlooked.


Pros:
a. Requires minimum maintenance.
b. Easy to clean—just use dish soap and a hose.
c. Easy to move and store due to its light weight.
d. No mildew, mold, rot, or rust will grow even in a very humid environment.
e. Withstands rain, humidity, salt water, chemicals, and extreme temperatures.
f. Scratches or cuts will only make plastic become brighter instead of exposing primer. Because the color is inherent in the construction, paint or sealants are not needed.


Cons:
a. Lighter ones might be flipped over by high wind.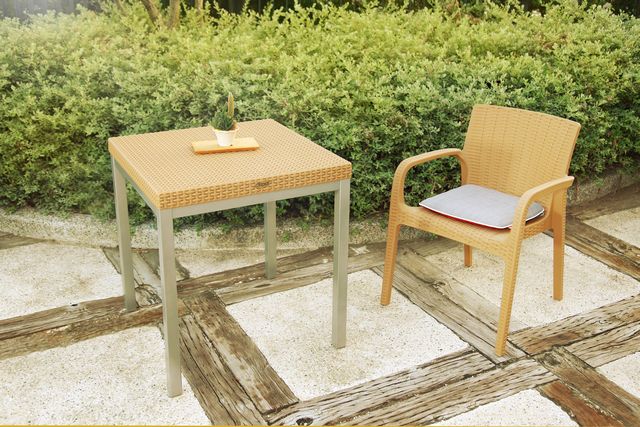 2. Teak
The natural beauty of teak furniture is enhanced with age. The older it is, the more character it develops. Softwoods like pine and cedar have a certain degree of weather resistance; on the other hand, hardwoods like white oak and teak have much better resistance to the elements, rotting, and insects.


Pros:
a. Provides a warmer, casual feeling with its natural tone that ages well with time.
b. Withstands the effects of sun and wind.


Cons:
a. Harder to move and store due to its weight.
b. Regular maintenance with varnishes or coatings is recommended to keep it from worm, weathering, cracking, splitting, warping or turning gray.
c. Mildew, mold, or rot might appear in a humid environment.
3. Aluminum
Generally speaking, aluminum doesn't rust like iron or steel, but it is prone to corrosion. However, aluminum corrosion is aluminum oxide, a hard material that protects the aluminum from further corrosion. Aluminum's resistance to rust, moisture and elements is better than that of other metals, which means it ranks high on the durability scale. Aluminum is strong and light at same time, so it is easy to move and store.


Pros:
a. Requires minimum maintenance.
b. Easy to move and store thanks to its light weight.
c. Resists rust and moisture damage better than other metals.
d. Doesn't develop mildew, mold, or rot, even in very damp environments.
e. Withstands rain, sunlight, humidity, salt water, and extreme temperatures.
Cons:
a. Aluminum is softer than iron and steel, making it vulnerable to denting under strong impact.
b. Might be flipped over by high wind.
c. Heats up in the sun, becoming uncomfortable to touch.
4. Steel
Steel is more rigid than iron, so structures made of steel might be thinner than iron but will be just as strong. Steel furniture is not as heavy as iron furniture. That being said, steel is heavier but stronger than aluminum. Steel is usually used for the frame of high-end tables and chairs, and other large outdoor furniture where more strength is required.


Pros:
a. Steel has a good balance between weight and sturdiness compared to iron.
b. Steel is less prone to rust than iron.
c. Withstands sunlight, rain, humidity, wind, and extreme temperatures.


Cons:
a. Heavier than aluminum, and takes some effort to move and store.
b. Must be checked occasionally for signs of rust.
c. Heats up in the sun and thus becomes uncomfortable to touch.