After enjoying many warm summer nights on your patio, hanging out with close friends and family, having delicious cuisines and refreshing beverages, you may be wondering should the furniture be stored when the temperatures start getting cooler.
Not in all states requiring the furniture to be stored, basically it depends on how cold will you location be. If there will be many days with the temperature lower than 32 °F (0 C), or having storm and strong wind from time to time, not to mention heavy snow, then it would be better to properly store your patio furniture, for it can help them avoiding elements and stay in shape to last more years to come.
1. Clean Your Patio Furniture
Before you put your patio furniture away for the winter, we suggest you give them a top-to-down cleaning first. For the dust, dirt, mud, food left, or even dead bugs attached to the furniture could become the catalyst for mold or mildew. If you are lucky that these foreign objects did not turn into mold, they still might be glued to the surface after the long and cold winter, so remember to clean it up before you put them away.   
Although resin furniture will not rust, resin will gradually lost its elasticity as the temperatures getting colder, making it easier to crack even by small amount of force or impact when it is extreme cold. Therefore it would be better to store the resin furniture before snow season. Simply clean the resin furniture with sponge/soft brush, mixture of dishwasher and water, and let them air-dry. No chemical or hard brush should be used to avoid risk of damaging the surface.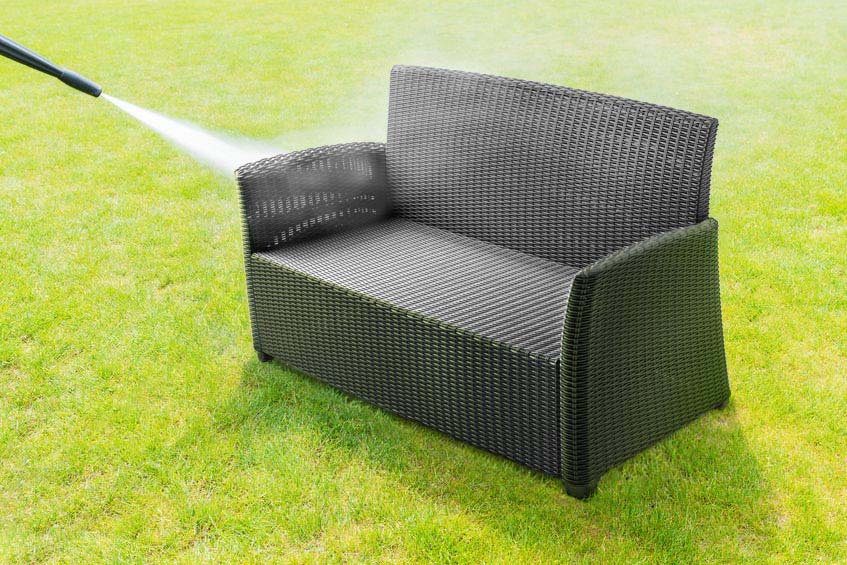 Washing With Water
When it comes to steel or iron patio furniture, there is a certain chance that they will rust under the influence of snow and rain, and as the rust grows on, the structure will be weakened and peeling off. Thus, after using detergent to clean the surface of the furniture, and rinse by water thoroughly, make sure they are total dry first before you store it. If you find rust during the cleaning, use steel wool or wire brush to scrub the rust away with caution until the color of metal is shown. Then treat the area with a rust-neutralizing primer, paint or wax.
(You could refer our "How To Protect and Maintain Patio Furniture" guide:
https://lagoonfurnitures.com/en/what-s-new/press-room/662-how-to-choose-the-best-material-for-outdoor-furniture-3)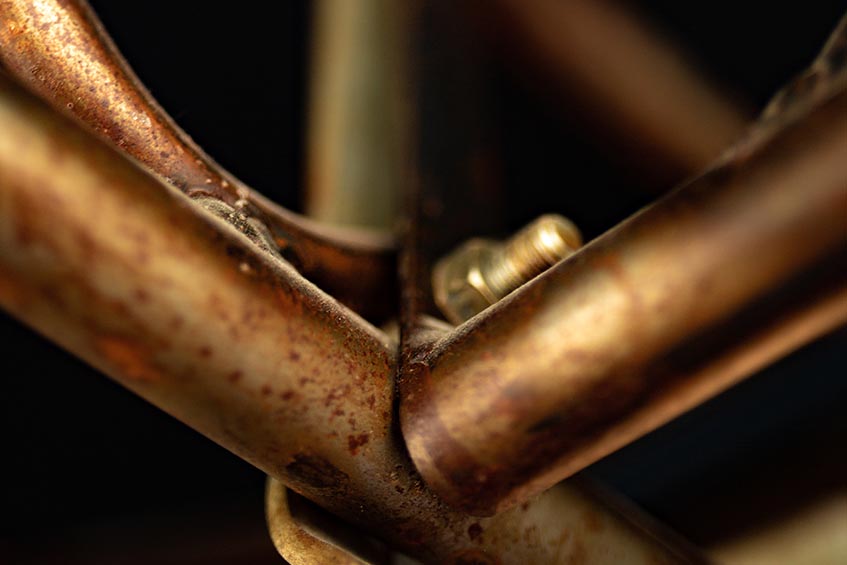 Check If There Is Rust
If the cushions are with removable covers, you could take off the covers and wash them with washing machine, or wash them as a whole if you feel that taking off and putting back is troublesome.
When using washing machine, remember to follow the label on cover to select proper washing cycle, and whether bleach is allowed.
For cushion that is in one piece, do not use the washing machine, in case it is deformed after wash. If the cushion is thicker and hard to dry out, using a dry cloth and sturdy brush to apply a mild detergent one place at the time. For thinner cushion and fast-dry material, you could wash them in the sink or bucket by hand. Avoid power-washing the cushions, as this can break the seams or ruin the material. If you plan to use steam vacuum cleaner, make sure the cushion will not be damaged by the heat of steam.
Store the washed cushion in a dry and clean place, for improper storage may help the growth of mold.
(You could refer our "How to clean outdoor patio furniture cushions" guide:
https://lagoonfurnitures.com/en/what-s-new/press-room/667-how-to-clean-outdoor-patio-furniture-cushions)
After you remove all the dirt on the patio furniture and dry it up, store them in storage shed, garage or basement to avoid snow and freezing rain. If you have no enough storage space, or the furniture is too heavy to move around, you could cover them with tarp thoroughly. If the manufacturer provides custom-made outdoor covers, it could save you lots of energy.
In order to save space, you can stack your patio chairs on top of each other, fold and align them side by side, or cover them together under one tarp if you put them outdoors. 
Above process might feel like a little bit troublesome, but taking proper care of your patio furniture before cold and inclement weather arrives can help you extent the life of your outdoor furniture, and once the temperatures rise, you can bring them out and enjoy time outside right away. Choose good quality patio furniture and treat them correctly can save money and energy in the long run, not to mention enjoy the charming weather outside benefits your physical and mental health.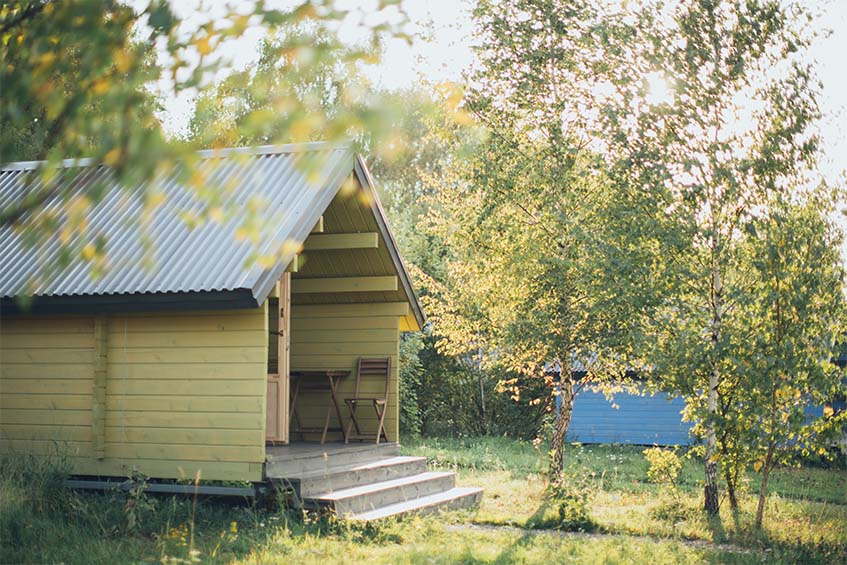 Store Patio Furniture In The Winter
*Benefits of choosing Lagoon furniture:
a. UV-resist:
UV stabilizers are added to the material. No maintenance is required.

b. Water-proof:
Most items are made of 100% Polypropylene, can be cleaned easily with cloth and water.

c. Light:
Polypropylene is lighter than wooden and metal furniture, less effort when moving furniture around, and storing into garage before winter.

d. Stackable:
Save storage space when not in use.

e. Safety:
BIFMA or EN581 or JIS furniture safety standard certified.

f. Eco-friendly:
Made of nontoxic polypropylene.

g. Aesthetic:
Fashion and slim design with many colors to choose from.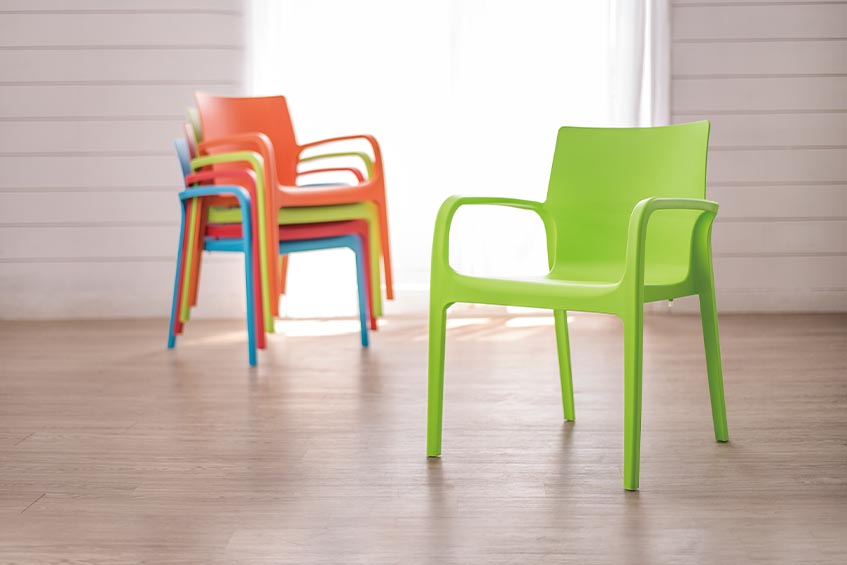 Alissa Stackable Patio Dinning Arm Chair