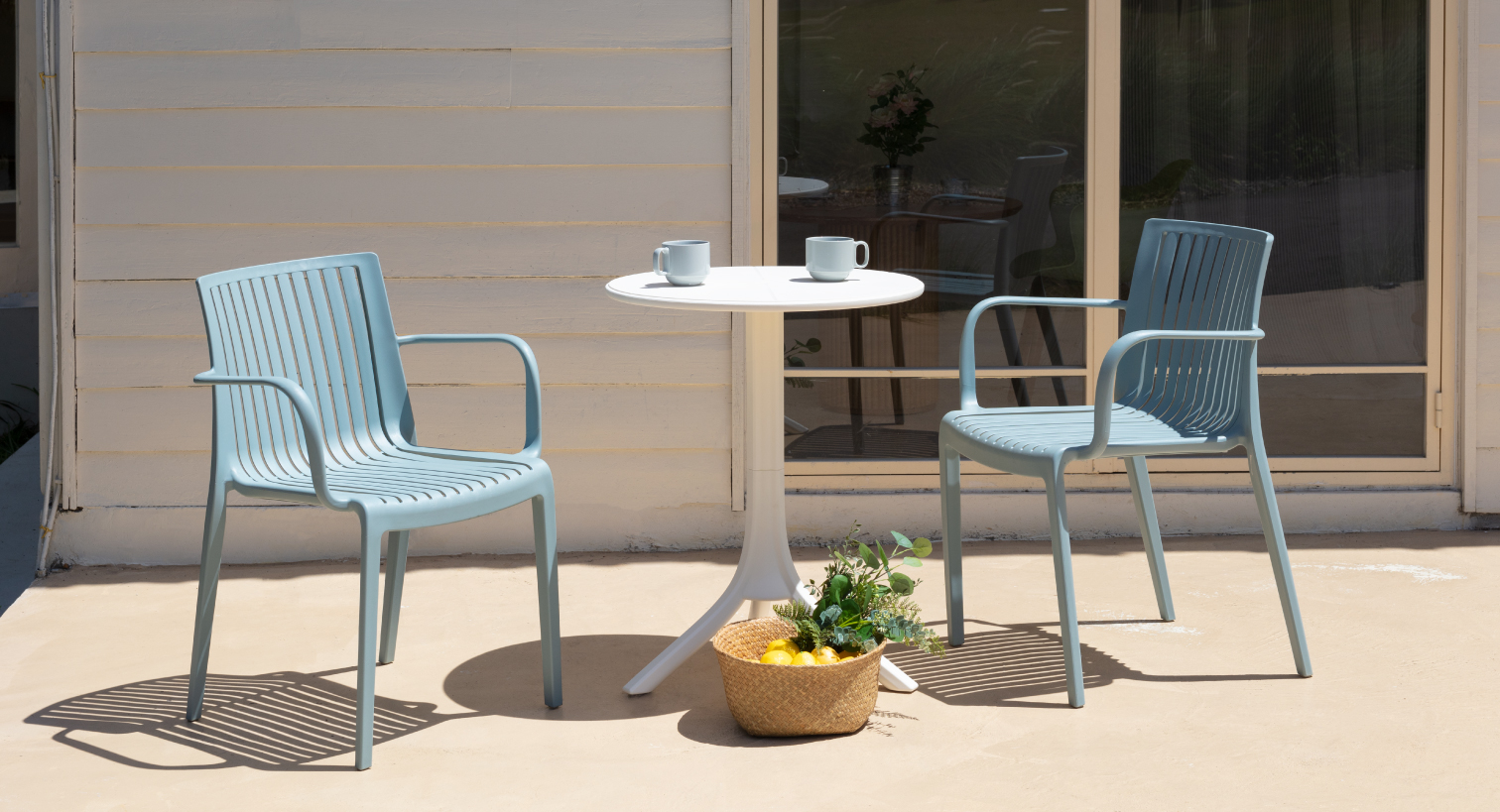 _1512x819_1-1OutdoorDiningChair.jpeg
Outdoor Dining Chairs | Outdoor Seating Chairs | Patio Dining Chairs
Why Choose Lagoon?

How to Choose Outdoor Dining Chairs
There are 2 factors to consider when it comes to how to choose the perfect outdoor dining chairs: Comfort and Practicality.
Comfort is crucial and it has to do with the design of chairs. Look for chairs with good back support and ergonomic curves to create overall comfort. A proper seat height is also important as it must match the height of your dining table to have a seamless fit.
As for practical advantages, think about the material as it affects their durability. Weather conditions are another thing to consider as chairs will be placed in outdoor settings. Plastic outdoor dining chairs can be a nice fit as they are water-resistant and easy to clean. Don't forget the problem of how to store the chairs. We recommend choosing stackable outdoor dining chairs to save more outdoor space.
Patio dining chairs are gaining popularity thanks to their practical benefits and designs. They're built to withstand the elements with water, UV, and rust resistance. These chairs are lightweight yet sturdy, fitting various environments. Also, choose patio dining chairs with a height from 17 to 20 inches to create maximum comfort.
What Outdoor Dining Chairs Set Suits Your Home Decor Style?
When it comes to choosing the right outdoor dining chairs for your home, there are plenty of options to match your decor style. Whether you favor a formal, elegant look or a casual, family-friendly style, there's always an outdoor dining chairs set of 4 that's just right for you and matches your taste.
If you're all about sophistication, consider high-backed commercial-grade dining chairs. But if you're going for a more laid-back approach, outdoor dining chairs with arms are great choices, like our rattan dining armchair series, providing a more relaxed atmosphere.
Choosing the right design of dining chairs can definitely add more flavors to your dining experience. They are not just where you sit, but a way to create the perfect ambiance to your home.
Create the Perfect Dining Experience with Lagoon's Outdoor Dining Chairs   
Wait no more to elevate your outdoor dining with our durable plastic outdoor dining chairs. Discover our premium selection of commercial-grade patio dining chairs to build your perfect, stylish outdoor dining space today.

Contact us now or request a quote on any page of your favored product!
---