Outdoor Patio Furniture Stores in San Diego (Temporary closure due to COVID-19)
Address:4689 Convoy St. San Diego,CA 92111
Phone:+1-619-267-0345
Email:

This email address is being protected from spambots. You need JavaScript enabled to view it.
ABOUT THIS LOCATION
Convoy Street which stretches about 1.5 miles, only a short drive from downtown, in the neighborhood of Kearny Mesa is the heart of San Diego's Asian community with a popular restaurant row and diverse mix of cultural offerings including Chinese, Japanese, Korean, Thai and Vietnamese. The eye-catching color contrast design of Lagoon showroom, is something you would not miss when passing by, and good place to study outdoor furniture in San Diego, .
Weekends are the busiest times as local San Diego residents and visitors alike descend upon this neighborhood to enjoy the ethnic cuisines served here and to hang out in Outdoor Patio Furniture Stores in San Diego. Looking for outdoor furniture in San Diego? Lagoon provides all kinds of colorful outdoor furniture, from chair to chaise Lounge, in San Diego. Call or visit us today, and we'll be glad to help you discover the beauty of outdoor living in our spacious and comfy showroom.(Temporary closure due to COVID-19)



PRODUCTS & SERVICES OFFERED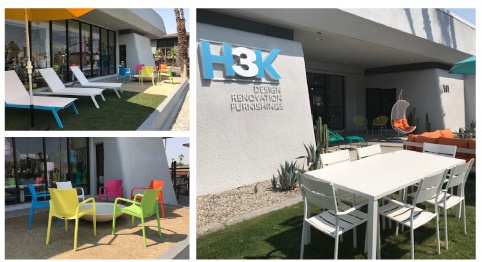 H3K HOME
–Palm Springs, CA, USA
H3K Design is located in downtown Palm Springs California, offering fabulous, contemporary and affordable design furnishings. The palm springs showroom opens 362 days a year! Closed only in Thanksgiving Day, Christmas Day, and New Year's Day. H3K has good relationship with local and national suppliers, assuring them to have access to all the right products needed.
Lagoon, patio furniture stores in san diego, is the long-term supplier and strategic partner of H3K HOME. Our products extend the choices of H3K's outdoor and garden furniture product line. We understand that warehouse of regional business is valuable, hence no MOQ is required, H3K HOME could easily put on-time small orders to us without worrying about stock space while working hard to close new deals.
True Value
–Palm Springs, CA, USA
True Value, the global hardware wholesaler, in Palm Springs is another long-term customer of Lagoon. And thanks to the beautiful desert climate, customers of Palm Springs like to create fashion and beautiful outdoor space with distinctive patio furniture styles, which Lagoon, patio furniture stores in san diego, is very good at. Small franchisees often worry about the problems of cash flow and lack of storage space. Flexible order quantity which Lagoon provides can solve these issues, as a result, True Value is very happy about their relationship with Lagoon.